HERSTORY: Georgia United's Cindy Connelly Making Credit Union History
But they are not easy to build or maintain.
"Building a relationship with someone where they know they can trust you, but you're not asking for things all the time or asking just when there's a crisis, that is my philosophy," said Georgia United Credit Union Sr. Vice President of Governmental Affairs and Outreach Cindy Connelly.
If not for Connelly's four decades-plus career of relationship building, it's safe to say credit union membership might be out of reach for many of us today. That's because she worked closely with Georgia's Newt Gingrich, U.S. House Speaker at the time, to pass landmark legislation expanding credit union membership rules.
Honored for her body of work, including passage of The Credit Union Membership Access Act of 1998, Connelly was inducted today (September 28) into America's Credit Union Museum exhibit "Credit Union Women Making History – Herstory," an annual recognition program to celebrate outstanding women of the credit union movement.
Connelly, the only honoree from a Georgia institution in this year's class, was enshrined alongside five other women representing the credit union industry.
"I am super excited and pleased and overwhelmed that I've been honored in this way," said Connelly. "I didn't start working for credit unions to get any credit – no pun intended – it was all because I believe in what we do. I've done anything and everything within my power to push, protect and fight for credit unions."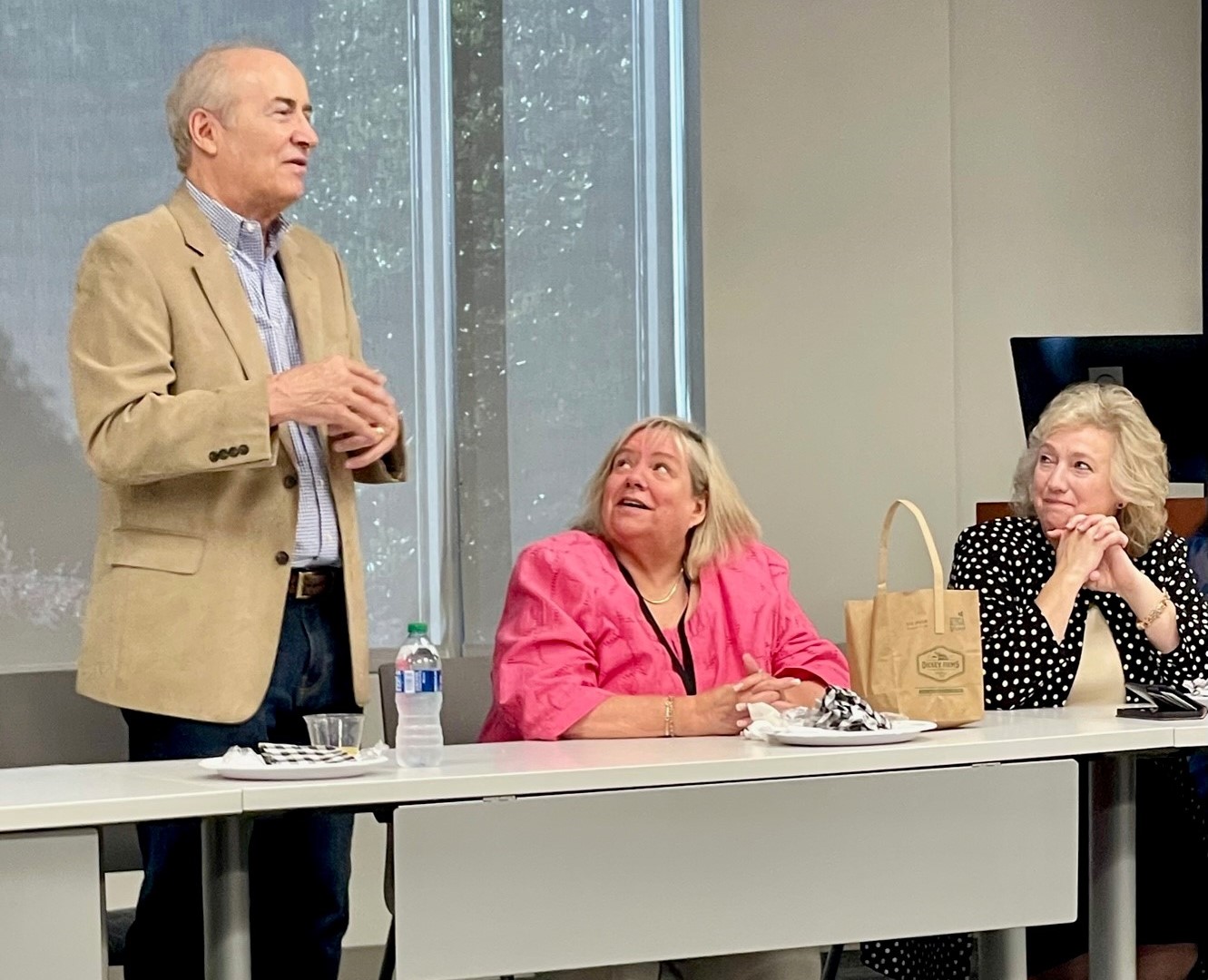 Cindy Connolly's (center) former trade association boss Mike Mercer (left) speaks during a reception honoring her as Georgia United President Laura King (right) listens.
Connelly stands up for what she believes in but doesn't burn any bridges in her approach to getting what she wants for the betterment of Georgia United members and the credit union movement, all the while staying humble.
"Cindy's contribution and influence on the credit union movement is immeasurable," said Georgia United CEO Debbie Smith. "She has been behind the scenes acting on national, state and local levels for many years and was instrumental in the passing of the Credit Union Membership Access Act in 1998. I am thrilled to see her being recognized for her tireless efforts in advocacy on behalf of credit unions and their members."
Connelly can influence people without them even recognizing it, according to Smith.
"Cindy is one of the hardest working and most effective credit union leaders in our state - but you would never hear that from her," said Georgia United Director of Community Development Kim Wall. "She is very humble and modest about the relationship bridges she has built for credit unions over the years (regardless of political party affiliations). She has a genuine love for people and helping others. Her disarming manner, exceptional social/emotional intelligence and sense of humor enable her to build long-term connections and relationships."
HER STORY
Connelly grew up in Florida, and after graduating from the University of Florida with a history degree, moved to Atlanta to begin a job at C&S Bank (later absorbed into what is now Bank of America) near Emory University.
Realizing there was a better financial choice, about a year later she got a job nearby at CDC Federal Credit Union, her first at a credit union.
"I have done a little bit of everything – you know how that is in the credit union world," said Connelly. "I worked for a very short time behind the teller line but ended up in compliance. I am one of these weird people that loves reading law books and telling people 'This is what it really means, and this is how we could make it work in our institution'."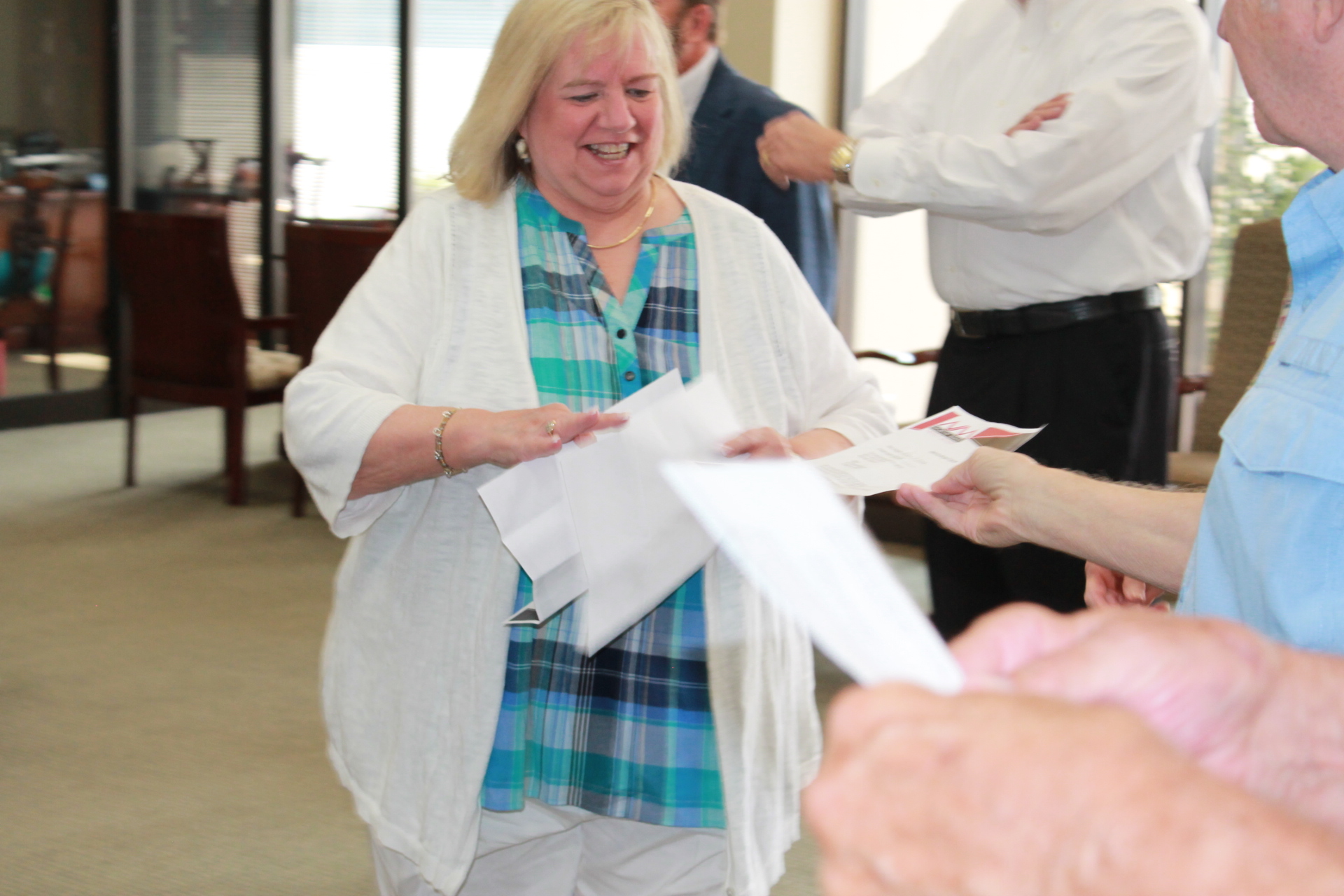 Sr. Vice President of Governmental Affairs and Outreach Cindy Connelly collects ballots from North Main Credit Union members voting to merge with Georgia United during a special meeting June 29, 2023 in Cornelia, Ga.
She worked for nearly a decade as CDC Federal's compliance officer, and then joined the state trade association, Georgia Credit Union Affiliates where she stayed for more than 30 years, rising to the rank of Senior Vice President, Governmental Affairs.
Georgia Credit Union Affiliates consolidated with the League of Southeastern Credit Unions & Affiliates (LSCU) and Connelly worked at the new organization until early 2020 when an opportunity to join Georgia United arose.
In addition to building relationships with federal and local legislators Connelly has forged deep connections with banking and finance regulators and worked with the Georgia Department of Banking and Finance to develop the Credit Union Code Task Force.
And when Connelly joined Georgia United, she was afforded the latitude to keep assisting other Georgia credit unions as she – and they - had grown accustomed to.
She has been described as the face of Georgia credit unions.
"Many credit union executives keep Cindy on speed-dial to assist in interpreting issues, providing guidance, making connections and exerting her gentle influence on their behalf," said Georgia United CFO Bob Bogart.  "She has dedicated her entire career to advancing the credit union movement and being an advocate for credit unions of all sizes."
THE DEAL
Let's rewind to 1998. The Internet was gaining steam, "Titanic" ruled the box office, Bill Clinton was in the Oval Office and Gingrich was coming close to the end of his influential four-year run as the 50th Speaker of the House.
In February 1998, the U.S. Supreme Court ruled that credit unions could only serve one occupation group – for example how Georgia United was established in 1958 to serve DeKalb County teachers – and advised credit unions to approach Congress to fix the Federal Credit Union Act of 1934.
Connelly had been nurturing a relationship with Gingrich for a while, so she tracked him down at an event in Norcross and told him, "We need your help." She and her boss, Mike Mercer, the trade association's president/CEO, met with Gingrich in his Georgia office and explained the legislative remedy needed to protect the future of credit unions. Gingrich asked insightful questions and called his staff who thought freshman legislator Steve LaTourette would be a good fit to introduce a bill.
LaTourette, a Republican from Ohio and Paul Kanjorski, a Pennsylvania Democrat, introduced the Credit Union Membership Access Act of 1998, H.R. 1151, to Congress. Later in the legislative process Gingrich addressed the 1998 Credit Union National Association Government Affairs Conference crowd and announced his co-sponsorship of H.R. 1151, and within six months the bill passed both the House and Senate and made its way to the president's desk. Clinton signed H.R. 1151 on August 7, 1998.
Many observers view H.R. 1151 as a bill that singlehandedly saved the credit union industry.
America's Credit Union Museum shared this testimonial from Gingrich regarding Connelly's impact: "She was a remarkably energetic and effective advocate for credit unions and helped shape significant legislation that protected the credit union movement from efforts by banks and other institutions to weaken or eliminate the credit union opportunity for members. I admire her greatly."
ACROSS THE AISLE
Considering today's highly partisan political climate, how many people can lay claim to being "dear friends" with both Gingrich and the late John Lewis, a civil rights activist and Democrat who represented Georgia's Fifth Congressional District from 1987 to 2000?
But Connelly deftly maneuvers across political spectrums.
"I think the one thing that has always been important in my life is I advocate for credit unions to all political parties," said Connelly. "I don't let my personal politics interfere with my credit union politics."
Former U.S. Congressman Rob Woodall, a Republican who represented Georgia's 7th congressional district for 10 years, didn't know anything about credit union issues until meeting Connelly. "When I first met Cindy Connelly, I thought I was meeting a lobbyist," said Woodall.  "I was wrong.  I was meeting a true believer, I was meeting a driver of change, and - though I wouldn't know it until years later - I was meeting a friend."